Understanding the factors that impact the cost of your apartment complex insurance can be complicated. The location of the property, size of the building, and amount of coverage needed to insure the building all impact the pricing of apartment complex insurance.
Because of how complex commercial insurance for apartment buildings can be it is important to have an experienced broker. Don Williams & Associates, Inc. can help, call us today at 408-402-3646.
Key Rating Factors
Insurance companies look at four major factors when evaluating a property insurance submission: the buildings construction, occupancy, protection, and exposure(COPE).
Construction- The first component of COPE is construction. Insurance companies use 6 different classifications for  buildings based on the combustibility and damageability of the materials used to construct the apartment complex. A rating of 1 means that that type of construction is the most susceptible to damage by fire. Here is that list in order of 1-6:
Frame & Brick Veneer: Buildings with frame construction typically consist of wood exterior walls, wood floors, and wood roofs. Masonry or Brick Veneer typically involve thin layers of brick, stone, or stucco used for decorative appearance purposes rather than structural support. Both of these types of construction are the most susceptible to fire damage.
Joisted Masonry: Brick, block, or concrete load bearing walls. Roof supports and floor supports are usually wood. Typically has a burn rate of less than one hour.
Noncombustible Construction: Buildings with exterior walls, floors, and roofs made of slow burning materials, typically metal or steel. A common example would be an airplane hanger.
Masonry Non Combustible: exterior walls made of masonry material not less than 4 inches thick or made with fire resistive construction with a burn rating of not less than one hour.  An example would be your local Lowes Home Improvement store.
Modified Fire Resistive Construction: Exterior walls, floors, roofs made of solid masonry materials that are at least 4 inches thick. Less than a two hour burn rate
Fire Resistive: Made of solid masonry materials including reinforced concrete not less than 4 inches thick. Floors and roofs minimum of 4 inches thick. Example: Condo and parking garages.
Occupancy- Occupancy is the 2nd component of COPE. In the case of an apartment complex, we know the occupancy is habitational. When looking at the occupancy of an apartment complex underwriters will look at the specific types of hazards associated with the property.
The plumbing, heating, roofing, wiring are all hazards that they take into consideration when evaluating your apartment building. They want apartment buildings to be updated and typically will need to know the year these systems were last updated if the apartment building is more than 30 years old.
Protection- Insurance companies always evaluate the adequacy of both the private and public fire protection of an apartment complex. They will look at the following:
The nearby fire department
water supply
access to fire extinguishers
building access
alarms
sprinkler system protection
Being able to detect a fire early is critical. A normal alarm system is expected in buildings that are occupied daily, located in inhabited areas, and on well traveled streets. Automatic sprinkler systems are also extremely valuable. These typically need to be serviced annually and inspected every 3 years. An apartment complex sprinkler system must cover up to 75%-90% of a unit to really be effective.
Exposure-The occupancy of adjacent buildings to an apartment complex can have a significant impact on the potential for loss to an apartment complex. Some of these hazardous occupancies include:
Metal workers using combustible finishes
Auto body shops
Manufacturing operations
Restaurants
Warehouse operations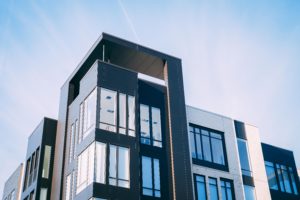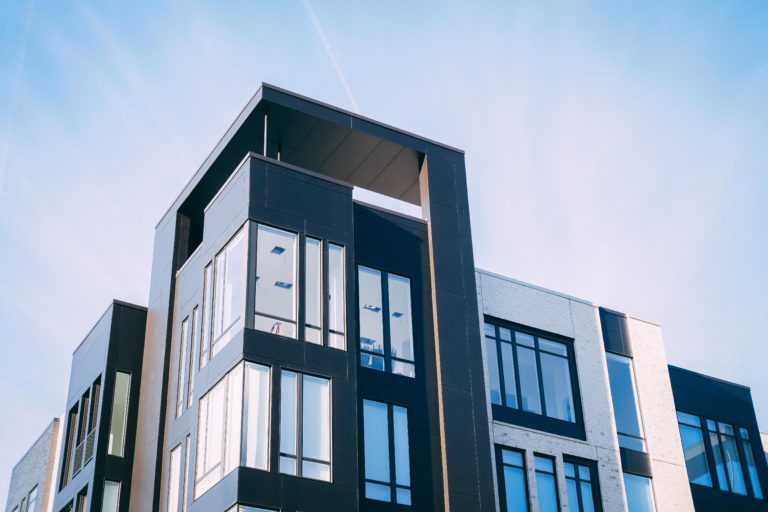 Best Apartment Building Insurance Companies
Every insurance company has their advantages and disadvantages. What is most suitable for one building owner may not be the best option for another building owner. We evaluated the best apartment building insurance companies in no particular order.
A+ (Superior) rating from A.M. Best
Nationwide is one of the top insurance providers for property and casualty insurance across the country. They have exceptional national coverage and provide online material for prevention and loss-control measures. The Nationwide policies deal with real estate development risk of all sizes, from a small strip mall to a major complex.
A (Excellent) rating from A.M. Best
Liberty offers broad, flexible, and transparent coverage that can be specifically tailored for apartment building owners. Liberty is also known for having expectational customer service and very stable rates.
A (Excellent) rating from A.M. Best
Mercury offers insurance for apartment complexes that are 1-4 units, as well as 5+ units. They are particularly known for being extremely competitive here in California, especially the bay area. They also offer discounts for having alarms, a sprinkler system, paying in full, and having management on site.
At Don Williams & Associates, we have access to all of these commercial insurance companies and many more. Reach out to one of our insurance experts today at 408-402-3646 or fill out a form here to see how we can help protect your apartment complex!