Insurance companies have been put in a very tough situation these past few years. California has been devastated with uncontrollable wildfires, leaving the insurance industry with over $26 Billion in losses. This has resulted in thousands of customers experiencing non-renewals from their long time insurance carriers, making it difficult for customers needing to obtain California fire insurance.
According to the department of insurance around 350,000 homeowners insurance policies were dropped in the last four years for these very reasons. The Los Gatos hills, in particular the 95033,95030,and 95032 area codes, have been areas where finding homeowners insurance companies has become very difficult. This has not only impacted the insurance market but has had a significant impact on the real estate market in these impacted areas.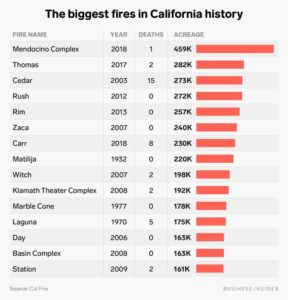 Here are some other zip codes in California that will most likely be greatly impacted in the next few years: San Jose(95012), La Grange(95329),Santa Cruz(95060),San Jose( 95120), Shingle Springs(95682), Roseville(95747),Portola Valley(94028), San Mateo( 94403), Los Altos(94024),Saratoga(95070),Redding(96001),San Diego( 92131), Morgan hill(95037),Truckee(96161), San Jose(95125), Felton(95018), El Dorado Hill(95762), Boulder Creek(95066),Menlo Park(94025),Los Altos Hill(94022),Lafayette(94549),Scotts Valley(95006), and Danville(94506)
Many customers wonder how insurance companies decide whether or not a home is located in an area of high risk. Insurance Companies use different fire scoring models but the most popular is using satellite data to calculate a properties fireline score. This takes into consideration factors like road access, slope, amount of surrounding fuel(types of trees, brush, etc.)  and the time it takes for the fire department to respond. Typically these scores range from 0-1(low), 2-3(moderate), 4-12(high),13-30 (extreme). These scores can be vastly different based on different scoring models.
Insurance companies also take your protection class into consideration. This provides insurance companies with data about your surrounding community. Your protection class score is based off your communities ability to prevent and mitigate fires. Factors that go into your protection class score include the nearest fire stations location, resources available for the fire department, proximity to water, equipment available, capability of water supplies, and more.
The 2020 fire season in California has unfortunately already started off with an increase in fire activity. The CZU, SCU, and LNU lighting complex fires have destroyed thousands of structures and burnt almost 1,000,000 acres.
When hard times like these arise it is crucial that you have taken the time to ensure that you have the proper insurance policy in place and have taken to necessary steps to mitigate any fire damage to your home.
Here are some important steps you can take to make sure your home is properly protected.
Protect Your Home During California Fire Season
With only a few companies in California willing to insure homes located in these areas it is extremely important to find an independent agent. Why an independent agent? An independent agent has the ability to check with a number of different homeowners insurance providers and will also have access to surplus lines carriers, who specialize in insuring these unique risks. We also have access to the California Fair Plan, which can act as a last resort for finding homeowners insurance.
At Don Williams and Associates we not only have access to a variety of homeowners insurance carriers, but we have a long history of writing these types of risks and understand this market like the back of our hand. California fire insurance is not easy to obtain and we understand that. That is why we have gone out and gotten appointments with insurance companies who will write these hard to place risks.
Mitigate Fire Hazards On Your Property:
1.Make sure you create a defensible space around your home by clearing all debris and brush that is directly surrounding your home.
Make sure any propane and fuel tanks are a minimum 30 feet away from your home
Make sure your smoke detector is working property. It also does not hurt to install a monitored fire alarm.
Trim any overhanging tree branches that touch or come close to your home.
Remove Debris from the roof and gutters
If you are installing a new roof it would be smart to consider using a roof with noncombustible materials. Metal, tile, slate, and concrete roofs are going to be more fire resistant than a wood shake roof.
Make sure your street and driveway have enough clearance to allow firetrucks to access your property
Use Home Defense Fire Retardant(https://phos-chekhomedefense.com/)
Homeowners Insurance is our specialty.
If you are a California resident that needs help finding California fire insurance you can also fill out the form below and one of our homeowners insurance experts will reach out to you immediately.
Homeowners Insurance Request