Best Rental Property Insurance in California
Rental properties are one of the best investment assets one can have. Making sure you have the proper rental property insurance in place is critical in protecting such a large asset. This will provide peace of mind for any landlord. The rental property insurance marketplace offers numerous insurance providers—all offering the 'Best Rental Property Insurance in California.' It is hard to evaluate between them unless we know few basic concepts. This article touches upon the idea of residential homeowners insurance for rental properties, which keeps you a step ahead in this industry.

Homeowner's Insurance policies does not cover rental properties. Anytime a property is tenant-occupied it needs its own landlord policy.
Key factors to look for while buying rental property insurance?
Below factors are generally used to compare home insurance for rental properties, and hence you must know their meaning and implications.
Dwelling Coverage
It pays for your rental property's repairs due to damages caused by fire, theft, vandalism, etc. It will also cover the medical liability and legal expenses of the occupants in case of any mishaps. Landlords should opt for a policy that has enough limits to cover their costs.
Personal Property Insurance
Rental property insurance is limited to the property's interior and exterior structure and doesn't cover the tenants personal property in and around the rented home. For these reasons, tenants should secure a renters policy to protect their property like furniture, electronics, books, clothes, etc. To avoid disputes or mitigate any risks, landlords can ask tenants to provide a renter's insurance policy as a mandatory condition to their lease agreement. In the case of a fully furnished rental property and property where some furnishings are provided by landlords (like curtains, ACs, washing machines, etc.), you should include some level of personal property insurance in your landlord insurance.
Rental Income Insurance
If your income is primarily dependent on rental income, then opting for Loss of use coverage can be a lifesaver. Your insurance carrier reimburses you for the loss of rent from tenants. It can also act as an extra layer of protection against defaulting your loan repayment.
Flood & Earthquake Insurance
Protection against flood and earthquake is  not included in Rental Property insurance. It has to be bought separately and is highly recommend for properties located in a high flood zone or near a major fault.

Flooding is one of the costliest and most common perils to property, but insurance policies for landlords, homeowners, or renters usually exclude coverage against flood. You can bundle them with rental property insurance to get bulk discounts and extended coverage for your building, contents, and replacement costs against flood.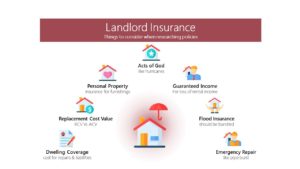 How much does landlord insurance cost?
The cost for your insurance premium depends on the situation and circumstances, like:
Property condition and the cost of replacement
Property Usage- Long term tenant vs Airbnb
Property location
Preventive features like security alarms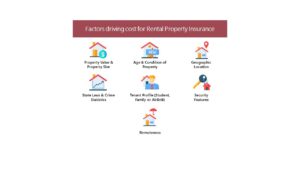 Prevention is the best way to save. Harness the power of Home Automation technology and install smart security appliances like Smart Camera, Smart Flood Detectors, and Smart Lock. These measures will reduce the overall risk of the rental property and can alert you during any event. Bonus—It may help you reduce the premium of the landlord insurance policy.
Best Rental Property Insurance
Our selection criteria didn't prioritize big brands.  Instead, we focused on the quality of coverage and cost-effectiveness. We also considered the add-on benefits if bundled with base policies and any discounts or deductibles that are under offer. At Don Williams & Associates, we have access to all three of these companies and many more.
Safeco Insurance (A Liberty Mutual Company)—Best Overall
From a coverage and pricing standpoint Safeco has one of the best landlord policies in the market. They also have an A+ claims department and provide additional discounts if you choose to bundle with some of your other personal policies.
Travelers—Best rated by the agencies
Travelers Insurance offers comprehensive protection either as part of their basic package or available via add-ons. Some niche offerings are Coverage for Medical Payments (to 3rd party) and Personal Property Coverage (like landlord provided furnishings or appliances). Travelers Insurance also offers bundling options like Home & Vehicle or Jewelry & Valuable.
ASI—Best Bundling Options
American Strategic Insurance (ASI) is best for moderate to high priced landlord insurance policies. As a majority-owned subsidiary of Progressive Insurance, it has strong financial backing, making it a stable option. ASI's value can be harnessed when its rental property insurance is bundled with other products (like auto insurance).
Take Away
The selection of rental property insurance depends on your situation or circumstances. One should look for adequate coverage and all the inclusions and exclusions as part of the policy. Various factors affect your premium and complexity while assessing your liability needs and hence expert advice is a must.
Reach out to one of our insurance experts today at 408-402-3646 or fill out a form here to see how we can help your with your Rental Property Insurance.